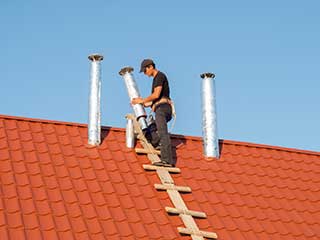 The best way to keep your HVAC unit working like a charm for years to come is by making sure it gets periodic maintenance and cleaning services to keep it functioning properly and continuing to supply your home with heating and air conditioning all year long. Our experts can help in no time!
Professional Maintenance Services
Just like any other piece of machinery, maintenance is key to assuring a long lifespan so you don't need to spend a fortune on a new one sooner than necessary! Our team is happy to come out and take care of performing maintenance on your unit to keep it in fantastic shape so you can rely on it for a long time. It's also the best way to catch any early problems in the making that can lead to it breaking down entirely so you won't wake up one day to find it won't work at all! It's best to prepare now, rather than have a pressing and stressful situation later.
Fast, High-Quality Cleaning
Cleaning is another essential part of maintaining your HVAC unit's health, as well as your own! Polluted air in your home can come from a unit that's clogged up with dirt, pollen, and otherwise from outside. This low air quality can cause a lot of troubles for allergy sufferers, children, the elderly, and anyone with a breathing condition like asthma.These blockages also make it more difficult for air to pass through and waste energy by causing the unit to need to run longer to make up for it. Our professionals can take care of all of this by using our specialized equipment to completely clear out your unit of built up materials in no time!
Contact Our Company Now
Rather than putting it off and hoping that your HVAC unit will keep limping along until a later date, why not get it taken care of now to improve energy spending and your air quality? Call Air Duct Cleaning San Marcos today to get an appointment scheduled right away.